How to renew vehicle registration in FL
If you have a smartphone, renewing your Florida vehicle registration is as easy as updating your social media feeds.
Residents no longer need to spend an afternoon in line at a DMV office. With the MyFlorida app, residents can renew the registration for their vehicles or vessels from the comfort of their own home using a straightforward, secure platform.
Follow the directions below to renew your vehicle registration in FL.
How to renew registration on the MyFlorida app
First, download the My Florida app for either your iPhone or Android smartphone.
To create an account using an email address, click Register with Email. Otherwise, you can use your Apple, Google, or Facebook account to sign in by selecting the desired option.
Next, tap Get Started, Start a renewal, and then select either a vehicle or vessel.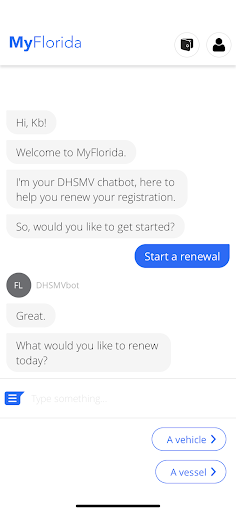 To locate your property, you will need to enter in the license plate as well as your birth date.
Once the platform locates your property, click Yes, that's mine.
Residents can then opt to select a one or two-year renewal for their vehicle. If the platform prevents you from selecting the two-year option, that's an indication that your vehicle is only eligible for a one year renewal.
MyFlorida users can renew multiple vehicles or vessels in a single transaction. However, if users only have one vehicle, they can click No, that's all I needed after selecting the desired renewal option.
Add a Payment Method to MyFlorida app
To complete your renewal order, you will need to click Choose Payment Method, and add a credit/debit card or a bank account.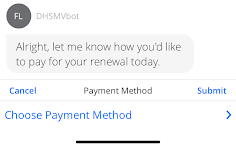 Simply select the desired payment method, fill out the necessary information and then click on the blue button at the bottom of the page.
Once added, you will be able to select Submit to use the payment method, and then tap the blue Pay $--.-- button to complete your renewal order.
Once you receive an emailed receipt for your transaction, you will receive your tags within 7-10 business days from the FLHSMV.
Your receipt, which is sent via email and stored on your MyFlorida profile, is officially recognized by law enforcement agencies as official proof of payment until your tags arrive in the mail.

MyFlorida, powered by Payit, utilizes digital wallet technology to process a variety of payments using secure, SSL encryption.